W
e begin our cyber-tour today in building 17-R.
As we walk across the parking lot to the elevator, please take note of the abundance of flora and fauna situated throughout the property. Our mission is to provide an environment that is as aesthetic and comfortable as possible. Please note the conveniently located individual mailboxes, with a common out going mailbox.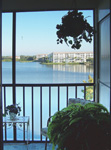 T
he elevator is here...so let's go see an apartment... Each building is equipped with laundry facilities. Notice that in this building, like all other buildings, there is an abundant assortment of washing machines and dryers. It costs only $1.00 per wash and $.75 per dry. We provide ample space to fold and/or hang your laundry after drying.
A
s we near apartment #213, please note the variety of stores and restaurants within walking distance. A free courtesy bus takes some of our tenants to and from the grocery store frequently. Our central location makes renting with Bayshore and Venture Rentals a very pleasant experience.
T
his is Apartment #213. Let me fumble through my keys to find the correct one (after a while, they all start looking the same). Apartment #213 is a split 2 bedroom 2 bath. "Split" means that there is a bedroom and a bath on either side of the living-room. The first room is the dining area. Further into the apartment is the living room, and beyond that, a screened porch. To the left is a large kitchen with plenty of cabinet space and standard household appliances. Walking from the kitchen to the guest bedroom, we go through the dining and living room. The guest bedroom is of good size with plenty of closet space. The master bedroom, located down the hallway and across the living room, is substantially larger than the guest bedroom. Inside of the master bedroom is a large walk-in closet that many people use as a hobby room for a home computer, small office, ect.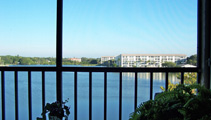 I
ncluded in your rent is maintenance, trash pickup three days a week and a 26 channel cable satellite dish. Our tenants are responsible for telephone charges and utilities.